As The Thru-Hiker World Turns
Happy Summer Solstice and World Naked Hiking Day! Hope everyone is enjoying their days and not getting too sunburned if you're out there hiking in your birthday suit. It's been yet another month since I've posted on here. I am much more active on Instagram as it's easier to post a photo real quick. Feel free to follow me on Instagram to get the latest updates on where I am.
Anyway – for all the hikers out there after being on the trail for days – do you ever look at yourself in the mirror and just go, "Dayyyyyyum… I am WRECKED." 
I sure do! And you know what? I'm pretty proud of that. Here's what's been going on through my hike so far, and the reflections I've been having.
Becoming Hiker Trash
As most of you all know, the term "hiker trash" is one of endearment towards members in the long distance hiking community. We're a proud bunch of kids – no matter physical age – who like to get dirty. The thing is, it's all about how you act around another that gives you the proud title of Hiker Trash. The best kind of HT? Folks helping others get to and from towns, talking about bodily fluids on the reg, donating some of your food to another whose bag was shredded by animals, your friends removing ticks from all sorts of areas on your bod that most people wouldn't dare venture, not cleaning your pot out for weeks at a time, helping build and take down camp, grabbing everyone's food bags in the morning, cutting your dreadlocks off at the top of Big Bald Mountain, supporting hikers during bad times or bad weather… I think you get the idea.
It's hard to describe the amazing experiences I've already had on this journey; you had to be there. From the scenes I've admired, the people I've met, the places I've eaten… what a unique community I belong to. I have never felt so comfortable around so many people before, and this has – as expected – further evolved my outlook on life and what is truly needed to be happy.
From The Trail To The City
So for anyone who's been keeping up with my antics on The Trek, Instagram, or Facebook, you've read about my ongoing knee injury. Turns out hiking with a torn meniscus for 500 miles isn't always a good idea! With a daily dose of 2400mg of ibuprofen for 7-10 days – issued by a knee specialist – I was able to get most of the inflammation down. That wouldn't cure it, but it'd help. The last thing I wanted to do was go off trail…
Of course the words I never wanted to hear came out of his mouth:
"You need to rest. You won't listen to me, so take this dosage for 7-10 days and do as much road walking as possible – but after that – you need to make a decision. Do you want your hike to end because your knee locks up and you fall off a cliff? No! You don't need surgery, but you need a good 2+ weeks of rest if you want to complete this hike. You body cannot mend itself if you hike this intense terrain 16 miles a day… no matter how much you try to convince yourself."
Oh brother, here we go again. I can't catch a break! My tramily, fellow hikers, doctors, and friends/family back home are all saying to rest. Why can't I bring myself to admit it?!
I'm really stubborn, but 500+ miles from when I injured my knee meant that it was only a matter of time before I face-planted and rolled down a mountain.
For anyone who's had knee pain… hiking with pain sucks. You know what sucks more? When it feels like someone wedged a knife between your femur and tibia, right under the patella and just left it there.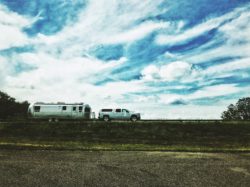 Then as you hike, your knee locks and you lunge forward onto your trekking poles. Cursing up a storm to hide the pain, I truck on for days… joking about how I should just chop off my knee at this point.
To my trail family who has dealt with my injury throughout those 500 miles… I LOVE YOU ALL. I couldn't have dealt with it alone.
Once in Daleville, VA it was decision time. Do I push on and ignore my injuries or do I go back to Philly for a few weeks and rest. Obviously, I knew what needed to be done, but it was the worst feeling to come to terms with.
I called my family, and within a few days, they drove 6 hours down to pick me up for my recovery.

The Trailcation That Arrived Early
I'm from Rocksylvania, and I've hiked the PA portion of the trail already. My original plan was to hike to PA and then go off trail for a week or so to see friends and family before continuing north. Well, my injury just made this Side Quest happen a month early, so it's not the end of the world. Plenty of thruhikers go off trail for weddings, birthday parties, family emergenices, etc.
Taking a break to heal isn't a bad thing, yet I couldn't turn it into a positive until I got home and realised two weeks would fly by quickly. Luckily for me, I was already off trail in Daleville for 5 days before my family came to visit.
While I'm home, I get to see all my friends, spend time with family, snuggle my Siberian Husky, play with my Tortoise and Macaw, make Trek blog posts, edit and backup ALLLLLL my photos and video, see Pirates of the Caribbean and Gardens of the Galaxy (saw Wonder Woman in Daleville), clean my gear, return gear, lighten my base weight, and work on my Jeep. That's a lot to do in 2 weeks anyway! Once I'm cleared to return to the trail, I'll just hook up with my trail family and make up the miles I missed after Katahdin. It'll be a weird kind of Flip Flop, but who cares, that means I still have much to look forward to after Maine!
Gearing Up For The Next 1400
As I rest at home, my mind is always on the trail. I'm studying my guide, cleaning gear, texting with hikers, reading blogs, watching Instagram, posting to my social media accounts, etc.
My tent is pitched in the backyard; I don't sleep in my room. Yep. I even cook crappy trail meals.
You might take the Hiker Trash out of the AT, but you don't take the AT out of the Hiker Trash! I'm revving up for the next 1400 miles of this hike, icing my knee, resting the shin splint I gave myself from compensating my left leg, trying to shed weight every place I can, etc. I've learned SO much from the 1/3rd of the trail I've now hiked. The amount of clutter in my room is crazy, and I can't wait to sell off items that I do not require anymore. Downsizing was something I was already doing before I left for the trail, but now more than ever I am driven to rid myself of nonessentials. Besides, I'm planning to move into a mobile home unit (Airstream, Tiny House, converted bus/van, etc), so it'll force me to downsize big time!
Last Thoughts For Today
As I sit at my iMac listening to The Best Exotic Marigold Hotel soundtrack, I think back to my time on the trail so far.
How happy I was at the top of McAfee Knob, or as I would hike through the dense pines in the Smokies, the fires that would light up within my friends when we would discover a new Side Quest to explore, the times I would kiss the ground in a trail town that had good coffee (MoJo's and Mill Mountain!!!), hanging at my friend's property in Burkes Garden. I miss them terribly, but I still have 2/3rds to go with my friends. Right now, I have to focus on getting better so I can continue the trek with less pain or risk of severe injury.
I appreciate so much in life… now more than ever. Don't let your time on this Earth slip away. Get out and do epic stuff. Do what makes you happy, what inspires you, what makes you feel like YOU.
Be sure to subscribe to my posts with your email on my profile page to keep up with my ongoing prep for 2018 and flashbacks to this year's 2017 section hike! And make sure to follow me on the social media links listed below for tons of images!
Keep on keeping on, family.
•  Furiosa •
SaveSave
Affiliate Disclosure
This website contains affiliate links, which means The Trek may receive a percentage of any product or service you purchase using the links in the articles or advertisements. The buyer pays the same price as they would otherwise, and your purchase helps to support The Trek's ongoing goal to serve you quality backpacking advice and information. Thanks for your support!
To learn more, please visit the About This Site page.