Remembering How the Trail Provides
I had my first "moment" on trail today. 
A little background: on trail I go by Soulshine. Last year I hiked two-thirds of the Pacific Crest Trail, and this year I'm back to finish it up. I'm from Oregon, 26, and a woman.
Back to the story.
I started the day off with a pretty easy six miles. I hiked through thick lava rocks that weren't easy on the feet, but it was mostly flat.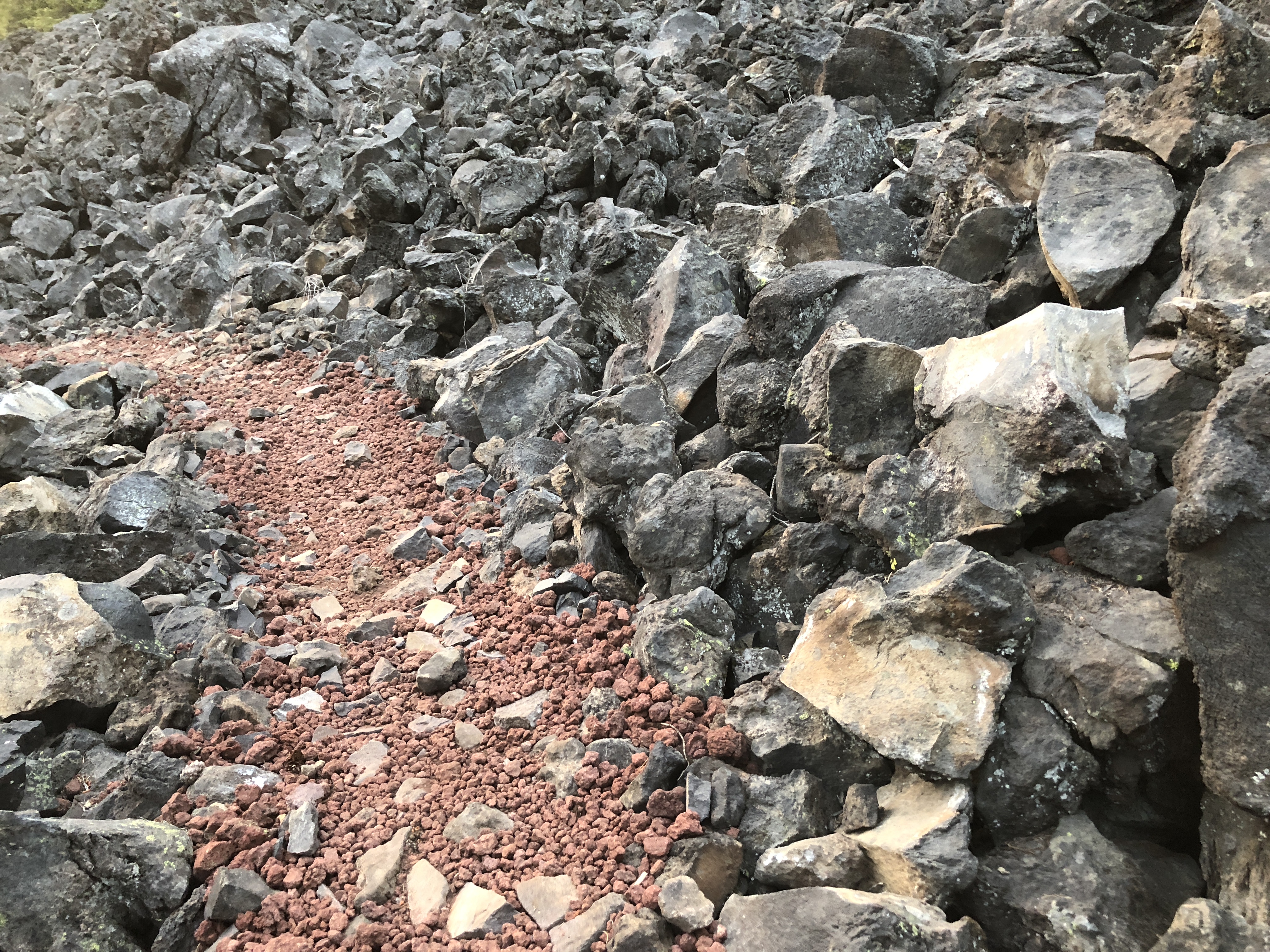 The morning hike led me to a trailhead to Fish Lake. There, I met up with Nono, Karma, Teabags, and Bronco. We decided we were hungry and we went and got breakfast at a resort that was two miles from the trailhead. We thought I'd be an easy hitch, but we were wrong. 
Convinced to not make the walk, Nono and I waited it out. We waited for probably 30 or so minutes, then we said we'd give it another 15. In the last five minutes, someone picked us up.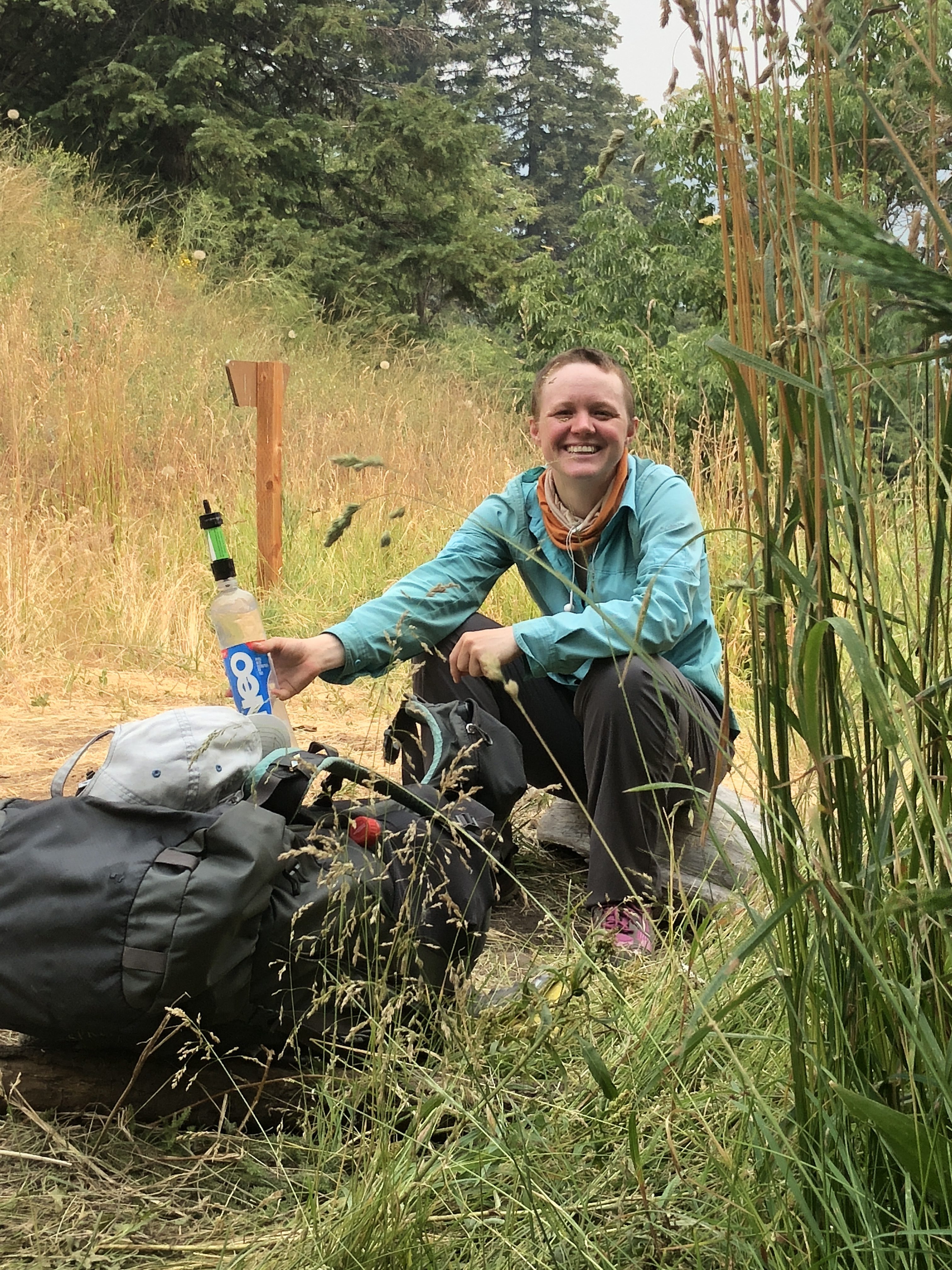 We got to Fish Lake Resort around 10 a.m. I ordered biscuits and gravy, and pancakes with peanut butter and syrup. Carbs with a side of carbs, please. 
We hung out there for about an hour, used the facilities, and then we were ready to go. We walked out to the main highway to get a hitch, and after waiting for over an hour we finally decided to start walking. I'm so stubborn sometimes, but I really didn't want to make the walk.
When we got back to trail we had five miles of uphill ahead of us, but being in Oregon the grade was around 300 feet per mile, which is not bad at all. I plugged in my headphones and trudged up the hill. I knew we wouldn't have water for about 12 miles, but I drank plenty at breakfast and carried almost three liters with me. For some reason, when I leave towns, I tend to be super thirsty; maybe it's my choice in food. Those carbs don't do me well, I suppose. 
Before I made it to the top of the climb I'd drank two and a half liters. Insane, right? I was dying of thirst for some reason. Which meant I had around one-third of a liter for about seven miles. It was downhill, though, and it was my own fault. 
After about four miles my feet began to ache. They were just throbbing and felt like a thousand pounds. I slowed my pace a bit and tried to not step on any rocks. Sometimes I had luck, and sometimes I didn't. With every step I took I thought about the pain I was in. It sucked, and I just wanted to sit down and take a break to elevate my feet, but I was so goddamn thirsty. 
I've put almost 900 miles on my Altras, so again it's my fault. 
Also on the hike I was experiencing terrible chafe in my, for lack of a better phrase,  crotch pit, and I was dying. The skin was rubbed so damn raw and I couldn't adjust my spandex (I hike in spandex specially to prevent chafe) correctly to negate it from continuing.
As soon as we got to the water source a lot of other hikers were there. As badly as I wanted to sit down I went directly to the stream to quench my thirst.
I couldn't find a spout with ample flow to collect water, so I did what I could, and stepped over some logs to get to an outlet and fill my Sawyer bladder. When I did this, my foot fell in the water, knocking me off balance and landing in the water straight on my ass. I was quite annoyed to say the least. I filled up three liters, drank a whole one, and filled it up again. 
Then I went back to the hangout spot. Everyone was eating and chatting, and I barely had the energy to talk. I rubbed my feet, something I spend a lot of time out here doing, and sulked in my sadness of my not-so-good-day. 
Before I packed up, I went to go take a poo. 
When I stood up and started walking, I realized my shorts were still soaking wet, which seriously intensified the chafe I was dealing with. The amount of pain I was experiencing on my short walk seemed unbearable. Have you ever had chafe from a long day of hiking or from a race and then tried to take a shower? I don't recommend it. 
We only had 4.6 miles to camp, but I didn't know what to to do. 
I came back to the hangout spot, and remembered I had an extra pair of shorts in my pack. My "town shorts" I'll call them. I prefer them to my hiking shorts, they're cute black Nike shorts with a red liner, but I don't hike in them because when I run in them I get thigh chafe, and I assumed it would be the same hiking. But I didn't have much of a choice. So I slipped them on, and hoped they'd aid the crotch chafe, and not create a new thigh chafe for me to deal with. My god.
My feet were still throbbing with pain and my attitude sucked. I was in a lot of pain, and I was super butthurt about it. Eventually almost everyone left the hangout spot, and it was just me and Karma. She started packing up her things and so did I. 
I remembered in this moment what it was like to be out here, to really be out here. A lot of the time it isn't watching sunsets and sharing dinner with a group of hikers you just met. A lot of the time it's super painful, and you have to work with whatever you've got in your backpack. And as much pain as I was in, I knew there wasn't anywhere in the world I'd rather be.
While packing up Karma glanced over at me, and I could just feel the tears welling up inside me, and I didn't hold back. I think only a single tear shed from each eye, but it was such a release.
I knew that my chafe would get better, I knew that I was getting new shoes in just 36 more miles, and I knew that I was OK, and was going to be OK. But dammit, I was in some serious pain and I just needed to let it out.
Karma didn't say much, because after the tears fell I looked at her and said, "It's OK, you know I'm going to be just fine." I'm not even sure she responded, but she walked over to me, wrapped me in her arms for a few seconds, and just reminded me she was there.
Karma and I have hiked together for over 1,000 miles. We've been through so much together. Physical pain, emotional pain, trail navigating, the Sierra last year. You name it. And just to have her there for that moment I had today meant the world to me. I was going to be just fine, and we both knew it. But I was hurting, so I shed a tear, and one of my best friends was there to give me a hug. Today it was the remedy I needed. 
Karma eventually hiked on, and I finished packing up my things. I crossed my fingers that the shorts I was wearing would work and I set off for the final miles of the day. 
A lot of the time, I listen to music on trail. But this time I didn't. I wanted to hear the sounds of the trail, the flapping of birds wings as they took off, the pattering of my feet on the ground, and the crunching of the rocks below me. I wanted to remember that I was back on the Pacific Crest Trail with all of my senses. I thought a lot in those last miles and I felt a wild sense of gratitude. 
I knew that after I got to my campsite I'd dress my wounds the best I could and by tomorrow morning they'd probably be better. And then I'd get to spend the day with some of my favorite people, in the wilderness, supporting and encouraging each other along the way. I got to use the body that I have to hike more miles than a lot of people do in a day, and I got to see the world while I was doing it. Goddamn, I was lucky. 
It's so strange how the trail really does provide. Sometimes that gift is in the form of ice cold lemonade from a trail angel providing trail magic. Sometimes it's in the form of finding just what you needed out of a hiker box. And sometimes it's in the form of putting on a pair of shorts you never considered hiking in and them working out better than you could've imagined. And sometimes it's having one of your best friends on trail give you a hug when you'd had a hard day. 
I am so grateful.  
Affiliate Disclosure
This website contains affiliate links, which means The Trek may receive a percentage of any product or service you purchase using the links in the articles or advertisements. The buyer pays the same price as they would otherwise, and your purchase helps to support The Trek's ongoing goal to serve you quality backpacking advice and information. Thanks for your support!
To learn more, please visit the About This Site page.