Rhode Island North South Trail: 78 Miles From the Atlantic Ocean to Massachusetts
Basic Info
Length: 78+ miles
Location: Rhode Island, USA
Trail Type: End-to-end
Time to thru-hike: Allow about five days
Scenery: The trail runs north from the Atlantic Ocean. It traverses through old farms, an abandoned ski resort, state parks, and environmental management areas, ending at the Rhode Island/Massachusetts state line.  The adventurous can continue on the Massachusetts Midstate Trail, ending at Mt.Watatic in NH, for a total of 191 miles.
Terrain: Easy with some roadwalks, including an 11-mile stretch in the middle.
Navigation: The Great Swamp Press book by Cliff Vanover is the definitive resource, although the maps are available online.   The trail is well-marked with blue blazes, in some places too well. Rather than the traditional "double blaze" at trail junctions, there's often a double-blaze, and a sign, and an arrow. It would take a lot of effort to get lost.
Getting There
The nice thing about Rhode Island is that nothing is far away.  The trail crosses a few major roads including Interstate 6.  The southern terminus is the Blue Shutters Town Beach, in Charlestown, RI, which is easily accessible by car.  The trail ends at the Massachusetts border in the Buck Hill state management area off RI-100, several miles off road, however there is a dirt road to a parking area ~2 miles from the terminus.  There is no bus service near the trail; you will need to get a ride.
Why Hike This Trail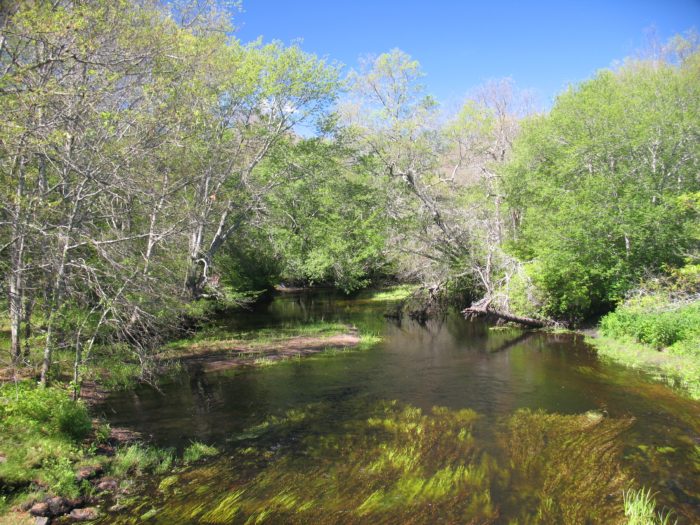 Where else can you hike across an entire state in three days?  There's a wide variety of terrain and scenery packed into a short period of time. You pass through coastal oak and pine forests, walk old wooded roads, through forgotten hamlets, then into the more rugged forested uplands of western Rhode Island. At one point you're within sight of Interstate-95, and at another, briefly dipping across the state line into Connecticut. For slightly more effort you can also walk to the 'Tri State Marker" where RI, CT, and MA meet.
Climate and Weather
It's New England—if you don't like the weather, wait five minutes. If you hike this trail during summer, expect highs in the 90-100 degree range. Early summer can be miserable if you don't like bugs. Be prepared to encounter black flies, mosquitoes, and horseflies… to name a few.  Sweet fern, aka Comptonia, can help keep them away, and there's plenty of it along the trail. Fall might be the best season, as the bug levels drop along with the humidity. A late fall or winter trip is not advisable as the trail passes through many hunting areas. Rhode Island has multiple deer seasons—check ahead of time.
Camping
There is no backcountry camping along the trail corridor, which is the only logistical caveat to completing this trail end-to-end. There are rumors of a permit-required "backpacker shelter" in the Arcadia State Park, but rumors also indicate that it's trashed. The trail passes by or through five formal camping areas: the Burlingame State Campground three miles from the southern end, the Ginny B Campground at mile 46, the Dyer Woods Nudist Campground at mile 48, the Oak Leaf Family Campground at mile 61, and the George Washington State Campground at mile 66. Other than that, be armed with a map, knowledgeable about state lands, and get creative. As always, be respectful of private property, and follow Leave No Trace principles.
Water Sources
Even in summer, water is plentiful, no more than 5 or 6 miles between sources, although in hotter weather the quality may vary as smaller streams dry up or become swampy.  Southern New England has many streams, small rivers, and ponds.  Here, the guidebook or your maps are your friend—there are as many low-quality sources as good ones.  You'll need to plan your day and judge which sources you'll want to use. Be sure to treat your water, unless you get it from a restaurant or campground.  In hot weather, be prepared to carry several liters.
Resupply Options
There's no proper resupply options on the trail.  Snacks and a meal can be had at Shady Acres on US-6 (~ mile 50) in Foster, and there are snacks and cold drinks at the Oakleaf campground in Glocester at mile 61. You also pass the restaurant at Foster Country Club; depending on your hygiene condition you might grab a meal there.  The trail is only 78 miles of rolling, easy walking.   You're looking at 5 days at most.
Closing Thoughts
It's not the longest trail out there, but it is a great trail.   The terrain varies so much that you you have 78 miles of something different. There are some roadwalk sections which can wear on your feet, but the views are nice, and the traffic almost non-existent in those sections.  The main roadwalk is also broken up by a beautiful management area at a pond.  Hiked South to North you get into increasingly remote areas and into some good New England-style hiking.  Hiked North to South, you can enter increasingly tame woods and end at the beautiful Atlantic Ocean beach, with a campground nearby.
More Photos
I thru-hiked this a short while ago. My own personal trip report is here, and the full picture album can be found here.
Affiliate Disclosure
This website contains affiliate links, which means The Trek may receive a percentage of any product or service you purchase using the links in the articles or advertisements. The buyer pays the same price as they would otherwise, and your purchase helps to support The Trek's ongoing goal to serve you quality backpacking advice and information. Thanks for your support!
To learn more, please visit the About This Site page.