Thru Hiking Pennsylvania's Horse-Shoe Trail
When I set the goal to thru hike the Horse Shoe trail in 2016 nearing the end of my 2,19 mile AT thru hike I never imagined a trail of 141 miles would require two attempts. I set out in March of 2017 to complete the trail with my dog Quin.  There's a full write up at the link here.  I am confident I made the right decision by admitting defeat on my first attempt with Quin 3 days and 60 miles in.  I will say I successfully completed my thru hike of the HST in just under 5 days in August.
Without the help of the farmers and volunteers I wouldn't have been able to complete this hike.  I truly appreciate all of their hard work and generosity.  Please visit the Horse-Shoe Trail Conservancy website.  Upon completing my hike I joined the HST Conservancy and donated money to help fund future trail improvement.  The future of this trail and all trails depend on our support.
The rolling hills of the southern Pennsylvania countryside made for easy hiking.  The trail has an overall length of 141 miles and only 14,775 feet of elevation gain. At just over 100' per mile gain this is a very gradual trail. Having hiked the trail in late August the summer heat was in full swing.  If there was one piece of gear that made the difference it was certainly my trekking umbrella.  I have carried an umbrella for close to 1500 hiking miles prior to this hike.  I intend to continue to add to that for as long as my legs will carry me.  The lack of canopy over the roads allowed the sun to brutally beat down on me.
As much as I enjoy camping this was a hike not a camping trip.  To complete the hike in just under 5 days I was logging over 25 miles a day.  The combination of a lighter summer backpack and friendly terrain helped make this an easier task.  I began hiking typically around 7 am and hiked for at least 12 hours daily.  Most nights I set my tent up in the dark.  Hiking late also permitted me to stealth camp more easily.  The term stealth camp refers to hiking in areas not typical for camping.  Essentially this means parking lots, fields, right on the trail or in small flat areas.  Practicing Leave No Trace allows hikers to stay and leave without disturbing the area.  With only 1 established campsite through the length of the trail this is the only way to accomplish and end to end (or thru) hike.
On this second attempt beginning this hike only felt right after completing the 3.2 mile approach using the AT to reach the western terminus once again.  Day 1 proved to be yet another trip down memory lane.  This time spring had come and gone and the woods were in the full swing of summer.  One of the first stretches had recently been trimmed and mowed.  Both sides of the trail were covered in sapling Black Bird trees.  The smell was incredible.  It was as if I stepped into a birch beer factory.  I had dreams of frosty mugs of birch beer in my head immediately.  I met several day hikers before reaching the first road walk section near Grantville.  A place I frequented in my youth and continue to frequent each fall.  Shortly before reaching the road walk I was greeted by a mother bear with 3 cubs.  She quickly chased them up a tree and assured me I was not welcome in her home.  Watching my every move and chomping her teeth she recommended that I to keep moving.  On the AT I encountered 23 bear, none of which displayed any aggression or irritation like this protective mother.
Everything was going so well and then the road walking began.  I developed a strange relationship with the road walking portions.  I neglected to keep a tally of how many miles were paved vs trail.  But take my word for it, there is a lot of blacktop on this journey.  The backroads of Grantville are narrow and winding.  The edge of pavement and white line were usually only a few inches apart.  Not wide enough for a hiker to feel comfortable walking with traffic to his back.  Most everyone gave me plenty of room and typically a confused smile as well.
One of the great things about this local hike being I could stop and visit close friends living right along the trail in Grantville.  The pair of brothers that drove me to Georgia to start the AT was my first stop.  A quick hello and I was off again.  As I passed the home of a close family friend, who coincidentally was my wrestling coach, was having a family BBQ.  I was greeted with hugs and more confused smiles.  It was a very memorable day 1 to the hike.  I spent the night with my tent tucked behind an old barn alongside a road I have driven thousands of times.  I wasn't far from the town I grew up in and my brother and his family were less than two miles from when I slept.  It was incredible.  Long distance hiking on my home turf.
The town of Hershey is home to a short portion of the Horse Shoe Trail.  You catch glimpses of the Hershey landmarks; the hotel, the park the original chocolate factory all seen in the distance.  It was in Hershey that I reminisced of my days on the AT sitting outside laundry mats, restaurants and gas stations drying clothing and resting.  I was also reminded how as human we can make snap judgements of people.  While I was hiking I had received smiles, thumbs ups and waves from folks driving in cars.  Surprisingly I even got an excited honk and smile from a woman on her way to work.  I just assume it was excitement because I wasn't in my trademark short hiker(running) shorts like the AT.  As I sat outside the gas station airing my shoes and drying my socks the smiles and waves seemed to have vanished.  The welcoming facial expressions disappeared.  I got the feeling of people looking down on me.  Folks turning their heads after checking out the guy loitering on the sidewalk of a gas station.  Not knowing I had chosen this for myself, that I was carrying a few thousand dollars' worth of hiking and camera gear.  Not to mention that they were headed to work while I was on vacation.  I should have expressed my condolences.
As I crossed through Hershey I came upon a home owner riding a 4-wheeler from her farm to the neighbors.  She greeted me with a smile and welcomed me to walk her property, even off the trail to take some photos.  I had a taken a few photos of her farm from my prior attempt I wanted her to see.  We chatted for a bit about the AT, her farm, the Amish, and life.  I thanked her for allowing the HST users to cross her beautiful property.  I was happy send her the few memorable photos of her property.  Her generosity brought me back to the many Trail Angels I met on the AT.
The trail leads through private and public lands heading towards Mt. Gretna.  It passes through state game lands I have hunted.  I am also fortunate enough to know a Game Lands maintenance worker responsible for this area.  My friend Drew was working as I passed through the area.  I texted him to let him know I was close and wanted to meet up.  We have known each other for over 20 years.  We went graduated high school together and went off to the same college together.  Our mutual love for the outdoors and hunting has always brought us back together.  We sat in the parking lot for over an hour catching up.  We talked about his Lyme disease treatment after I showed him the gigantic bullseye I was currently sporting.  It was great seeing him again.  A few days prior to my hike I was prescribed doxycycline after removing a tick from my back and developing a bullseye.  I was told to avoid prolonged exposure to the sun for a few weeks.  Sorry Doc.
Mt Gretna is home to the Governor Dick Monument just off the trail.  There is a visitor center from which I am well versed in purchasing cold sodas.  One thing I never shy away from during a hike in the sun or heat is a cold soda.  I intentionally carried cash to buy a soda there but to my dismay the vending machine was out of order.  This solidified my commitment to a frosty mug of root beer and a Jigger sundae.  Part of the joy of hiking for me is the social aspect, the other is ice cream.  For decades my family has visited The Jigger Shop in Mt Gretna every summer.  It holds a very special place in my heart.  I have eaten more than my weight in ice cream and root beer at this hidden local gem.
Jigger – "Our Specialty"

"Two and a half scoops of French vanilla ice cream made with your choice of chocolate or butterscotch topping, whipped marshmallow and our secret touch… Jigger Nuts!"
Shortly thereafter the trail passes through a short but overgrown power line section.  There is a section about 2 miles or so if memory serves me the trail follows a power line.  This section the trail is overgrown with brush and tall grasses.  It also has a swampy area that was wet in March and again in August.  This was my least favorite section of the trail.  Not because of the grass, or scenery, that was as incredible as I had remembered.  In the brief time it took to hike the power line I pulled off nearly a dozen ticks from my legs.  For reference, I spent 151 days hiking the entire Appalachian Trail.  I had 5 ticks on me.  Please never let your guard down anytime you are outdoors.
Not far from Mt Gretna lies Middle Creek Wildlife Management area.  In the winter it becomes a haven for waterfowl of all varieties.  It is the only place I have ever seen a Northern Shoveler.  But more importantly it is along the migration path of tens of thousands of Snow Geese.  Seeing up to 100,000 snow geese in one area at one time is incredible.  I highly recommend everyone takes a winter migration trip to Middle Creek.  Unfortunately, August isn't part of the migration time.  Being August, the outflow of the lake was less than desirable water even for filtering.  With the lack of appealing water my time at Middle Creek was brief.
As I neared the end of the daylight I stopped to pull out my flashlight for some night hiking.  Not long after I walked into a small campground.  I quickly ran into to a regular of the campground as he stepped from his extremely luxurious camper set up. He directed me to the restroom which also had a shower facility….  Moving on… I found a flat enough spot on the trail to pitch my tent.  Directly on the trail tucked between very nice two homes.  I spent the night there and was gone with the rising sun.
The Pretzel Hut on Rt 501 outside of Hopeland is a must stop for several reasons.  The first being the gate you must pass through.  The trail passes through a corral gate adjacent to the restaurant.  As I hiked down the hill heading towards Rt 501 I began to hear the roosters crowing and the turkey gobbling.  Behind the restaurant there is a small barnyard zoo.  It's incredibly entertaining to see the goats and chickens and turkeys running around.  There are few things in life cuter than kids (young goats are kids; young humans are children).  I opted to reward myself to a double scoop of ice cream and a warm chicken bacon ranch soft pretzel.  I washed it down with Maine's favorite soda, an ice-cold Moxie!  The Pretzel Hut is also where I left off on my first attempt.
How cute are the goats though, seriously!?
The trail crosses Rt 501 and in the hot summer sun it felt like endless miles walking a dirt road.  The hot sun shining down and the breeze blocked by the trees made it seem like walking through a sauna.  But with a full belly and a big grin from watching the barnyard chaos I enjoyed the rest.
I ran into a homeowner mowing the grass late in my last evening. The trail popped out between two homes and around a retention pond. He was riding his lawn mower listening to some tunes. As he saw me approaching he stopped and shut his mower down. I was in a bit of a rush but decided to take a seat and chat. He asked how far I was going and where I started. He offered a place in his yard if I'd like to spend the night there. We spoke about life and hiking. My AT thru hike and my future plans for the PCT. I thanked him but declined the offer. I had a few more miles in my sights for the evening. I expressed my gratitude for allowing hikers and horse back riders us his property. He said it was his pleasure. Another reminder that the works is full of generous and amazing people. Regardless of what Facebook and the news say.
On my final morning I had a short 9 miles left of this adventure. I woke early and was gone with the morning rush around me. I spent the night tucked between 3 homes. A drifter in the woods. The trail passes through the Hopewell Furnace State Park.  It's a trip back in time to when the mining and iron ore days were booming in PA.  I arrived early in the morning and passed through. Only seeing 2 employees and a few animals out in the barnyard.  The calm morning and sight fog made for some incredible scenery of the park.  I plan to return and check out more of the remnants of the village during normal operating hours.  The lack of tourists aside from this wandering and wondering hiker made it easier to get some great photos of the park.
I finish my hike just before noon on Friday.  The end of this journey and this trail was quiet ironic.  I honestly had no idea what to expect.  I knew it was at General George Washington Headquarters in Valley Forge National Park but not much more.  I crossed a small stream and located the monument to complete my journey.  The goal I had set for myself somewhere in New England with 1500 miles was now under my belt.  I had just hiked 140 miles in under 5 days.  I hiked through streams full of trout and farmers fields of high standing corn.  I hiked along wood lines and slept hidden between homes.  I ate 3 ice cream sundaes, one for breakfast.  A homage to my thru hiking days and the gallons of ice cream consumed.  I hiked through the areas full of memories from my youth.  This trail gave me a new connection to south central PA, my home.  After snapping a celebratory photo I texted Elyse and my family.  Each night before my eyes closed for the night I got a text from my father.  Asking where I was laying my head that night.  I spent one night behind a barn he worked at in the 70's, another right in the middle of the trail. The night before i finished, with no other options, I slept in French Creek State Park.  My father got to hike the trail vicariously through me more than anyone.
This trail wasn't designed for long distance hiking.  It couldn't have been designed for someone to start at the AT and walk to Valley Forge.  It couldn't have been with all of the road walking.  Maybe it was designed to bring neighbors together.  Using the trail to connect farmers and turn them into friends.  It is part of a community, many communities across southern PA in fact.  It brings farmers and  horse riders and hikers together.  Turns strangers and neighbors into friends.  At 3 miles per hour it brought me closer to the place of my roots.
After sending off my celebratory texts home I turned around and pressed the crosswalk button at the red light behind me.  The George Washington HQ building is across the busy street and I didn't want to risk it.  After all the miles I was still a victim of progress in the end.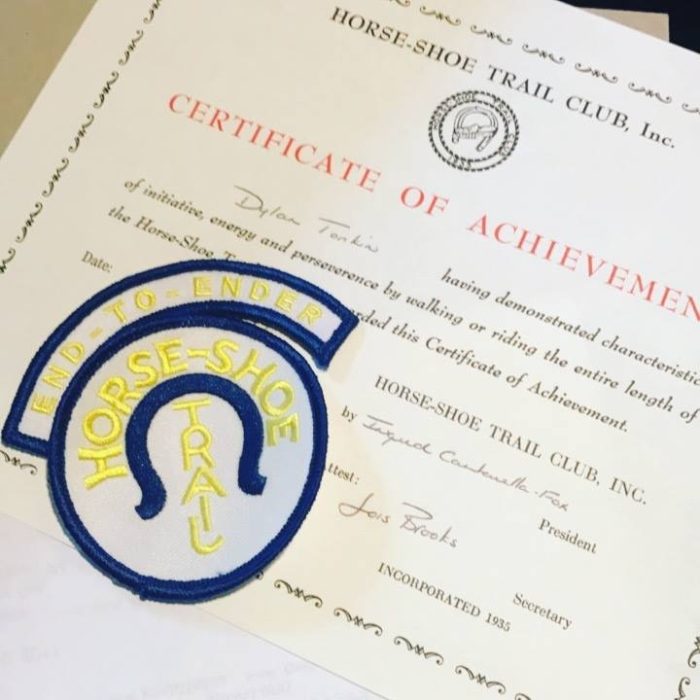 Affiliate Disclosure
This website contains affiliate links, which means The Trek may receive a percentage of any product or service you purchase using the links in the articles or advertisements. The buyer pays the same price as they would otherwise, and your purchase helps to support The Trek's ongoing goal to serve you quality backpacking advice and information. Thanks for your support!
To learn more, please visit the About This Site page.